Episode 3: Other Voices, Other Rooms
Episode 4: The Eyes of Texas
In episode 2 we saw Jake pretty much give up on the idea of saving President Kennedy and rather tried to save a young Harry from a life of misery (by killing Harry's violent father). Yet, perhaps it was the Past pushing back, at the episode's end Jake was stuck with Bill Turcotte (George MacKay), a man whose sister fell victim to Frank Dunning. Bill now aware that Jake is a time traveller demands to be allowed to help save the future president. With no other choice Jake agrees and both move to Dallas.
Rather than making us sit through the end of 1960 and all through 1961, the show jumps forward to 1962, just months before the assassination of JFK. Jake has set himself up as a teacher in Jodie, a small town high school, close enough to Dallas, while Bill remains in Dallas in hopes of gathering information on Lee Harvey Oswald (played by Aussie actor Daniel Webber). Jake seems to have assimilated well to the times and is beloved in the school. While at Jodie, Jake once again meets Sadie (Sarah Gadon), a beautiful woman he met briefly in Dallas three years prior. She is now the new librarian at the same school and the two strike up a relationship.
Other Voices, Other Rooms is largely setting up the stakes for Jake and Bill. They have set up their lives in this world and are slowly compiling the evidence necessary to prove or disprove Lee Harvey Oswald's involvement in the assassination. In Stephen King's book Bill is only a minor character who helps Jake take care of Frank Dunning but the show has granted him a main role. This gives the show an additional element that can work with or against Jake (most likely both). It also helps to make the surveillance scenes much more interesting because of their interactions rather than just seeing a solitary Jake spying on the Oswalds. Side note, Daniel Webber does a pretty great job as Lee. He captures the quiet intensity and unbalanced personality very well. Lee is quite an interesting character because he has such a presence on screen.
The Eyes of Texas, episode 4, then is able to play with the new stakes in really uncomfortable ways. Firstly the Oswalds: now that Jake and Bill are living next to Lee and his wife Marina, it is easier for them to keep tabs on the pair. Jake and Bill overhear George and Lee alluding to an assassination. From his knowledge of history, Jake suspects that Lee attempts to kill General Walker months before the assassination of Kennedy. If Jake and Bill can prove Lee was behind the trigger the night General Walker was shot at, then it gives Jake enough proof that Lee is the culprit. Jake has to seriously accept the fact that he may have to take Lee's life.
Then we also have Jake's attempt to balance out a somewhat normal life amidst his mission. He and Sadie are happy together but, just like Al said, there are consequences to messing with the past. This time we are introduced to Sadie's husband, Johnny Clayton (T.R. Knight), a deeply disturbing man who, even by 1960s standards, speaks in a old fashioned tone. He is a jealous and controlling man who doesn't want to let Sadie have a divorce. He is quite simply a horrible person. Sadie later reveals to Jake just how twisted her husband is by describing his sexual fetishes and how violent he can be.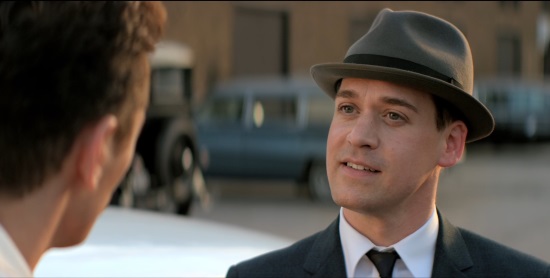 The Sadie and Oswald storyline come together in an interesting way. While Jake is following George, hoping to gather evidence that he and Lee are working with the CIA, Johnny shows up to have a word with Jake. This forces Jake lose track of George and miss an opportunity to find out the truth. Instead, Jake is forced to listen to Johnny's threats. He promises to make life very difficult for both Jake and Sadie if he doesn't get what he wants i.e. control of Sadie. But Jake has other plans. He tells Johnny that he knows about his sexual perversions and if he doesn't let Sadie have the divorce, he will tell everyone in town that Johnny likes to wear a diaper and treats Sadie like a mother figure as well as a wife. It's very Freudian. Johnny backs off but not before leaving a sour taste and a promise for revenge.
Back at the home front, Bill complicates things by developing a crush on Lee's wife Marina. Jake has told him to remain completely uninvolved with the Oswalds but Bill being Bill can't help himself. This clearly cannot end well and Jake may have to deal with a lot more problems than he should have to.
This is the halfway point of the show and while a lot has happened, there is still so much more to come. We get a lot of snippets and red herrings but the show needs to give more solid information. Jake can't just sit back and listen. All the relationships happening in the show gives it a sense of family drama rather than the sci-fi thriller the pilot promised. It's all well written so this is not particularly a bad thing but the show needs more events that have weight to them. Something that will force the characters into action. Despite the slower pace of these two episodes, it's clear the show will deliver.
Author's note: I do apologise for the lateness of these reviews. Technical issues left me without a computer for a few weeks and I'm only now catching up as fast as I can.