The Great Red Dragon speaks. His voice is deep, gravelly and menacing. He is a man of few words but they reverberate within you. Where Hannibal gained his power through intellect and artistry, Dolarhyde gains his through silence and actions. But like Hannibal, it seems vanity may be a weakness he can't overcome. A continuation from last episode's title, And the Woman Clothed with the Sun offers us another fantastic example of how great the show handles power play.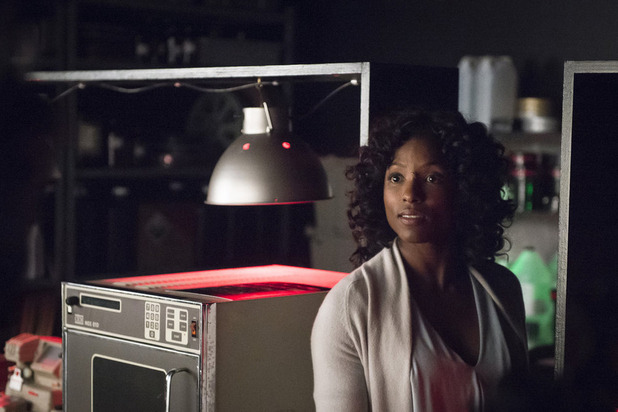 The Red Dragon (known in the media as The Tooth Fairy) is starting to not only accept but also revel in the idea of the monster he is becoming. Hannibal calls him a "shy boy" (most killers would be shy compared to Hannibal), but it seems he's getting a little more brazen. Dolarhyde seeks the help of his co-worker Reba (Rutina Wesley) in figuring out how best to record "zoo animals" on film. Whether the Red Dragon wants to record himself for self-gratification or to destroy the title of Tooth Fairy has yet to be seen.
However, the interactions between Dolarhyde and Reba is kind of endearing (in a twisted way). She brings a warmth and directness that Dolarhyde hasn't had much experience with. There is an undertone of romance, though this could easily be a misunderstanding on her part. We may see things through Dolarhyde's actions but we don't really get his point of view, we get the point of view from those around him. This is why Jack needed Will back, to see the killer's point of view.
Meanwhile, Will returns to Hannibal for help. From the get go Hannibal jabs at Will, trying to chip away at his composure despite knowing that Will can't put up much of a fight. Their conversations always link back to Will and his newfound family. It's not only manipulative, it's almost threatening. Hannibal seems to be constantly reminding Will of all he stands to lose once he figures out an escape plan. Will can only stand back and listen because doing anything else will give more and more control over to Hannib
\
To look at Dr Alana Bloom now is to see a fantastic, albeit sad, transformation. We are told she and Margot are still together and have a child (a Verger baby which Alana carried) but she's learned to do away with gentleness. She's been hardened and even carries herself with a sense of ownership, as if she was born into an authoritative position. Her threats to take away Hannibal's dignity exemplifies how cold hearted and ruthless she has become (and justly so). But no matter how much power she lords over him, Hannibal did promise to kill her. And Hannibal always keeps his promises.
Also making a comeback is Freddie Lounds. She's still captivated by Will Graham and Hannibal. Unfortunately we know too well what happens to those kinds of people. Freddie isn't really a likeable character but her role has never felt redundant so if we see Hannibal finally claim her it'll sting a little.
Lastly, we see Abigail Hobbs once again, perhaps for the last time. She has been such an important figure in the Hannibal series and it's great that Fuller and co. have not pushed her aside. It's terrible that her suffering continuously escalated over time but having her come back really adds to the narrative. We see the story of how she first "died" by Hannibal's hands and how he consequently groomed her to think and feel how he wanted. He used her fears and anger and pain to keep control over her.
In a way, it's cruel to bring her back so late just to show us how she was broken and pieced back together. Then again this is Hannibal so it shouldn't be surprising that it tries to make the audience remember who's boss.